Doon South Dental is a family dental clinic that is proud to be serving the Doon, Kitchener area for over 20+ years.
PROJECT SCOPE
I was asked to redesigned the Doon South Dental brand and website in 2016 and give them a fresh new look and visual design. I updated the design of their logo, web UI and promotional material to be more current and timeless and have a strong family focus. I also devised a strong online strategy and SEO practices to generate awareness of the clinic and drive traffic to their website.
LOGO DESIGN
A simple elegant logo design which encompasses their brand crescent icon in the word "Doon".  We updated the typography and design to be clean and contemporary and compliment their recently renovated office.
The new logo was designed to be interchangeable for use on light and dark backgrounds and in small and large spaces, which made it easily adaptable for web and print use, for promotional and local sponsorship use.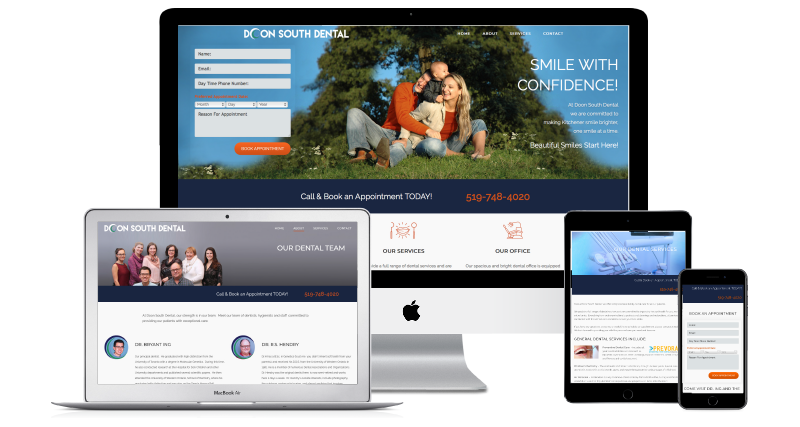 WEBSITE DESIGN
I designed a website for this local Kitchener dentist that has a simple, elegant family friendly UI. Easy to navigate and use. A timeless design that is both functional and informational.  Patients can book an appointment right on the website, quickly and easily.
The website has been optimized for use on ALL mobile devices an incorporates the office's family values and core branding strategy without feeling over powering, or too commercial.
The website has also been optimize with SEO and analytics to rank well on searches, which in turn has driven more traffic to their website and more clients to their office.
BUSINESS CARD
I created a fresh and simple business card design that incorporates the crescent logo design and colors throughout the card.  All information is strategically placed for maximum clarify and effectiness, but still pleasing to look at.

PROMOTIONAL DESIGN
This promotional material has a simple fun design that incorporate the dental office brand throughout and is attractive, but still very informative and easy to read. The images are reassuring and pleasing which makes this dental clinic feel more inviting for ALL patients.